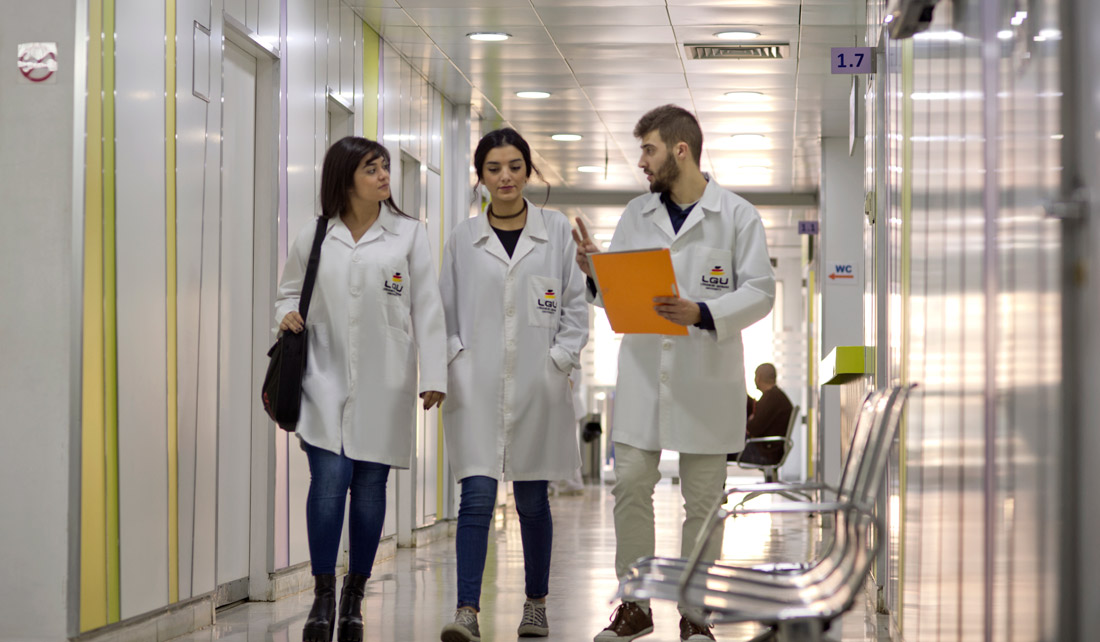 History

The Department was launched in 2013, five years after the creation of the Lebanese German University (LGU). LGU currently offers a BS in Medical Imaging. However, students can enroll in the MPH program offered at the Faculty Public Health in collaboration with the Faculty of Business. They can also choose to go for one of the MBA programs at the Faculty of Business
Description of the major
LGU awards a Bachelor of Science (BS) degree in Medical Imaging upon accomplishing 180 credits in three years – in conformity with the European Credit Transfer System (ECTS).
The courses are divided into four main areas: anatomy and physiology, pathology, medical imaging, and common courses. During the three years of study, the student spends more than 1500 hours in hospitals and radiology centers to become familiar with various medical imaging devices for tests and semiology.
The program is designed to expose students to a wide scope of fields starting from conventional radiography to different electrophysiology exams, radiotherapy, and nuclear medicine among others.
Almost 40% of the curriculum courses are related to the medical imaging field taking into consideration three main focuses: the physical principles of the machine, the way tests and exams are made and semiology.
During their internship, students can benefit from state-of-the-art medical imaging equipment at Notre Dame du Liban Hospital in Jounieh to enhance their practical knowledge and to be continuously informed of the new devices used in this field.
Why choose LGU?
LGU offers one of the best teaching methods by well-equipped instructors and medical doctors and can easily guaranty several internships for its student in well-known hospitals and medical centers. Moreover, almost 100% of its students are hired in the domain even before graduating.
Curriculum
The table below shows the latest version of the curriculum that was updated in July 2016.

Agreements

Many agreements have been signed between LGU and well known medical centers and hospitals. In fact, due to these agreements, students are easily recruited in medical centers or granted some tuition during their internship. Some of these agreements are with:
Hopital Notre Dame du Liban;
Middle East Institute of Health;
Laboratoire Hindi;
Laboratoire Wakim;
Hopital Notre Dame Maritime – Byblos;
St Georges Hospital – Ashrafieh;
Hopital Saint-Joseph Dora ;
Hopital Notre Dame des Secours – Byblos ;
Centre Jounieh de Radiologie ;
Centre Taleb;
Events and conferences
Free Health Day – Lebanese German University, May 2016
Job Opportunities
Degree holders in Medical Imaging can find careers in hospitals and medical centers. They can also be sales technicians for various medical imaging devices. Job opportunities are widely available in the Lebanese and regional markets. Moreover, the high number of hours students spend training in hospitals and radiography centers help them establish useful contacts to promote themselves in the field.
Future Studies
LGU currently offers a BS in Medical Imaging. However, students can decide to enroll in the MPH program offered at the Faculty Public Health in collaboration with the Faculty of Business. They can also choose to go for one of the MBA programs in the Faculty of Business.

Testimonials
Rana El-Kady: I applied to LGU and was accepted in the medical imaging department. I found the program very useful and fulfilling. I really think the lessons I learned have helped and will help me throughout my professional career. Thank you LGU.
Success stories
More than one success story can be told about graduates in Medical Imaging. In fact, student Renée Nasr started her professional career at Laboratoire Wakim then moved to Laboratoire Hindi directly after graduating.
Rana El Kady and Raquelle Khalil were hired by Serhal Hospital even before graduating and they are still working there.
About 8 students are working in hospitals and medical centers even before getting their diploma.