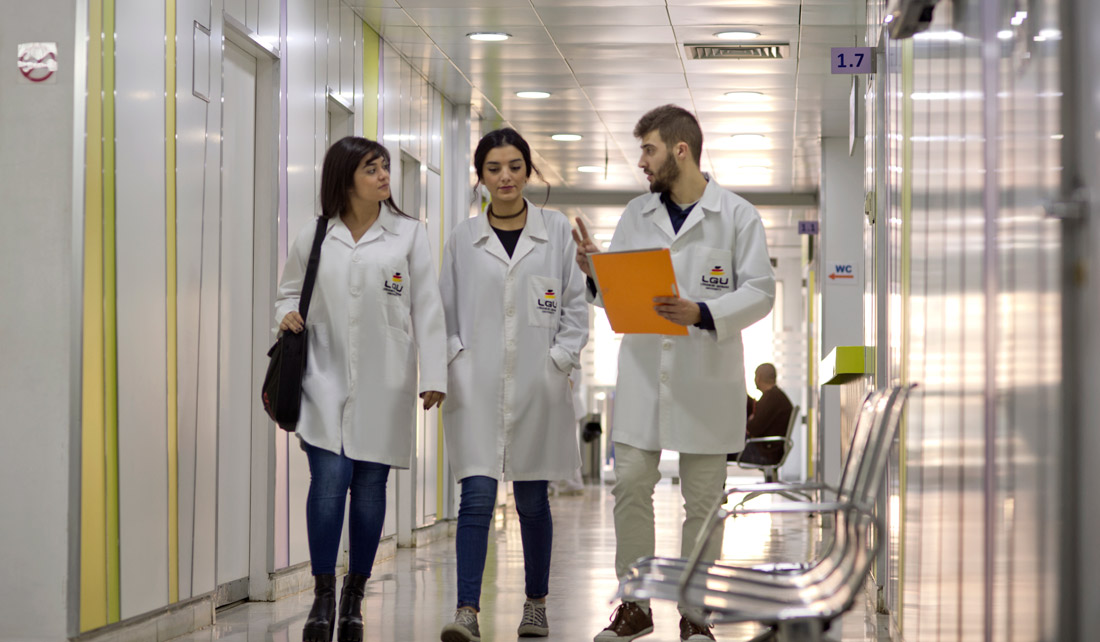 History
The Department of Nursing was established in 2008. However, its history goes back to the School of Nursing at Notre Dame du Liban Hospital, which was the pioneer in the region and which graduated most of the highly qualified nurses currently occupying important positions in Lebanon and abroad.
Description
If you are fond of helping others, have a human spirit, and really want to make a difference in the lives of others, by making an ill patient's day a little brighter or by helping save someone's life, you will find immense satisfaction in nursing as a career. A nurse enjoys autonomy, exerts authority, and performs multi-disciplinary tasks.
Studying nursing at LGU offers the opportunity:
• To graduate in 3 years with a BS.
• To continue education and have a Master's in Public Heath within a year and a half.
• To do further postgraduate studies.
• To get full scholarship for three years.
• To do a continuous follow-up throughout the training period in full compliance with the trainer/trainee ratio.
• To benefit from highly qualified instructors specialized in the subject matter with extensive practical experience.
• To take courses which are continuously evolving enriched by seminars and conferences.
• To do theoretical courses followed by direct application and study cases as well as practical diversified training, which starts on the first semester.
• To benefit from a close follow-up and to liaise with the trainer and the Head of Department.
• To start practicing as a nursing aid at Notre Dame du Liban Hospital from the second year of studies.
Why choose LGU?

No entrance exam is required. All students are given equal opportunity to enroll in our BS program.
Students with TS diplomas are accepted.
Students with special cases are accepted after their files are studied for the «equivalence of diplomas».
Curriculum
Click here to download the Curriculum
Agreements with centers/hospitals

In order to fully prepare students to a successful career and provide them with all the needed theoretical and practical knowledge, LGU has established agreements with many hospitals and institutes. In those centers, each student goes through different training sessions in different services to acquire the maximum field information. Listed below are training centers and hospitals LGU regularly cooperates with:
• Hôpital Notre Dame du Liban
• Hôpital Notre Dame des Secours
• Hôpital Saint Joseph
• Hôpital Libanais
• Hôpital Psychiatrique de la Croix
• Middle East Institute of Health
• Saint George Hospital University Medical Center
• Dispensaire Notre Dame de Lourdes, Ghadir
• Foyer des Vieillards – Filles de Notre des Douleurs, Ghedress
• Lycée Libano-Allemand, Jounieh
• Collège Notre Dame de Louwayzé
• Nursery Antoura
Events/Conferences

Many events have taken place in the Department of Nursing, among which we list the following:
• Séminaire intitulé « Introduction à l'examen physique dans la pratique infirmière » en collaboration avec l'Ordre des Infirmiers et le Syndicat des Hôpitaux.
• « Free Health Day » en collaboration avec la Municipalité de Jounieh.
• Célébration annuelle de Noël dans le but d'aider une famille.
• Participation à une journée organisée par l'AUBMC.
Job Opportunities

Nurses are no longer confined to the bedside. They are making their presence felt in diverse areas: hospitals, private practice, home health, schools, public health, military …
Nowadays, the employment of registered nurses is projected to grow more than any other occupation in the world. There is a shortage of people working in the field and such a lack is likely to grow in the coming years. Accordingly, nurses have the possibility to practice abroad in the USA, Canada, Australia, and especially in Europe where heavy recruitment is taking place in both Belgium and France.
Future studies

LGU currently offers a BS in Nursing. However, students can decide to enroll in any UD program. They can also enroll in the MPH programs offered by the Faculty of Public Health.
Student's Testimonials
Roy Issa

« J'ai vécu 3 ans à la LGU, où j'ai débuté et achevé mes études en sciences infirmières. C'est une des meilleures universités de l'enseignement supérieur au Liban. Elle offre des cours de qualité, a une excellente réputation dans la région et m'a assurée de très bonnes opportunités de travail »
Rania AbouEid

(American University of Beirut Medical Center)
We are proud of graduating from LGU where we have been properly and adequately trained so that we can adapt and manage in any position. We are appreciated by our superiors for being serious, conscientious, and for having endurance. "
Success Stories

Our real success story lies in:
• A 100% success rate at the national colloquium.
• Our graduates landing good positions in reputable hospitals, such as the American University of Beirut Medical Center and Saint George Hospital University Medical Center.