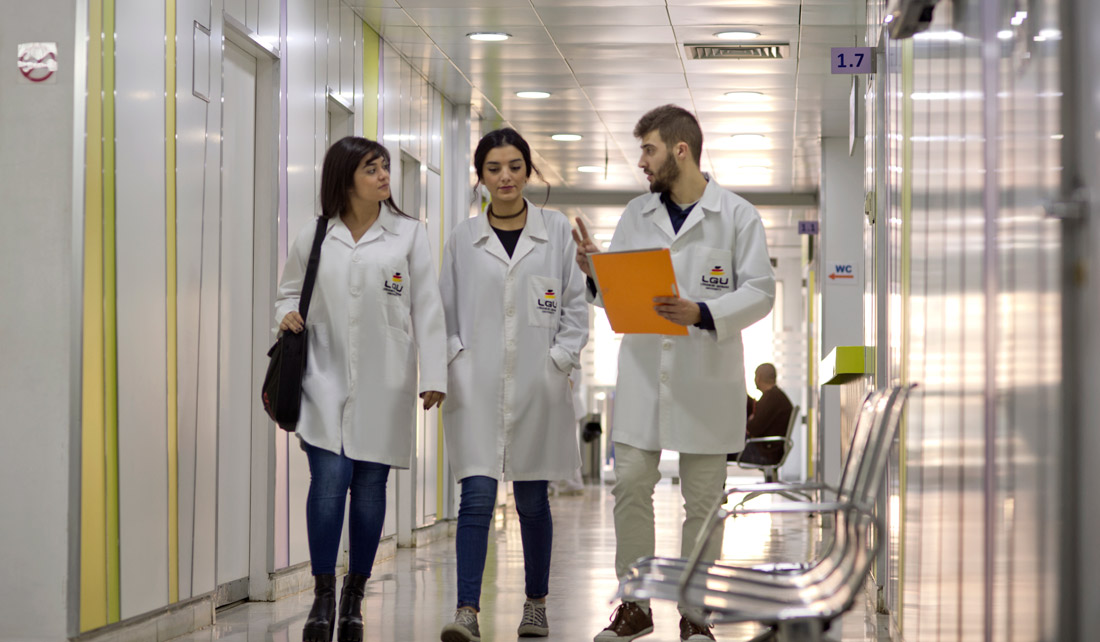 History
Founded in 2008, the Department of Nutrition has gained a good reputation in the market mainly due to its high academic level and highly skilled and competent personnel. Despite its young age, the Department has proved itself by collecting 1st prizes in many inter-university competitions and by organizing quality conferences on the national level.
Description
Dietitians are experts in the nutrition field. They advise people on what to eat in order to have a healthy lifestyle or achieve specific health-related goals.
A BS in Nutrition and Dietetics is an undergraduate degree of 180 European credits accomplished through three to four years. A six-month internship is required by the Lebanese colloquium in order to become a licensed dietitian.
Students at the Department of Nutrition have access to a nutrition laboratory equipped with the newest machines, posters, and nutrition tools. A BS degree in nutrition allows graduates to enroll in masters programs at LGU or wherever they choose to apply in Lebanon or abroad.
Why choose LGU
No entrance exam is required. All students are given equal opportunity to enroll in our BS program.
Students with special cases are accepted after studying their files for the «equivalence of diplomas».
Curriculum
Click here to download the Curriculum
Agreements
One of the challenges that nutrition students face after graduating is to find a six-month internship at a hospital as required by the Lebanese colloquium. This is not the case for LGU as the Department of Nutrition and Dietetics has established cooperation with the most reputable hospitals and centers in Lebanon: Hôpital Notre Dame du Liban, Hôpital Saint Joseph, Hôpital Sacré-Coeur, Middle East Institute of Health, Hôpital Saint Georges Ajaltoun, Hôpital Maritime Jbeil, Belle Vue Medical Center, Poids Plume Diet Center, Diet Delights…
Events and conferences
Students benefit from many activities organized by the Department of Nutrition and Dietetics during their undergraduate years. This makes learning fun for them and very practical. Some of the activities organized include live cooking shows, nutrition awareness campaigns for other students on campus, Christmas and Easter light delights, Vitamin C day… Moreover, during their courses, students go on field trips to hospitals, diet centers, and food service companies.
Students are kept updated of the latest trends in nutrition even after they graduate. They are invited to attend all conferences and seminars organized by the Faculty of Public Health and are given attendance certificates. The most recent conferences organized by the Department are on the following topics: "Road map for collaboration between universities and the public sector to find innovative solutions to the problems affecting the meat and poultry sectors in Lebanon", "Enteral and parenteral nutrition", "Surgical treatment of obesity", "Maladies métaboliques et leur traitement nutritionnel", "Dyslipidémies: Actualités thérapeutiques Coq10"…

Job opportunities
After passing the Lebanese colloquium, LGU graduates have a wide range of job opportunities. They can choose to:
open their own clinic or work at a polyclinic / spa / gym;
work as hospital dietitians (where the minimum starting salary is 800$);
work as quality controllers/auditors in food service companies or restaurants;
open a diet center;
join the paramedical field as sales agents in pharmaceutical industries;
work in the Gulf area at very high salaries as there is a high demand for dietitians there.
It is important to note that LGU helps its students find work after they graduate and gives them priority to integrate LGU team whenever the opportunity arises.
Future studies
Nutrition students can decide to enroll in the MPH program offered at the Faculty Public Health in collaboration with the Faculty of Business. They can also choose to go for one of the MBA programs in the Faculty of Business.
Student's Testimonials
Marie-Thérèse Akiki

Licensed dietitian

Graduated with honor, high distinction and valedictorian in 2012.
« I am glad to have the opportunity to express my gratitude to the instructors whose efforts and devotion played an essential role in developing my skills as well as my personality. I believe that teaching is an art and I admit that my instructors have mastered it with proficiency. When I practice my profession day after day and enhance my skills, I'm deeply convinced that I made the best choice when I joined LGU and became member of this family»
Georgia Salameh

Licensed dietitian

« As a proud graduate in Nutrition and Dietetics from LGU, I express my gratitude toward this prestigious institution and all the valuable assets it offered me through my study years.
Needless to say the level of education it provides is of high standards and is the reason for my professional success. Ever since I graduated, I've been offered many job opportunities in my field of expertise. LGU's guidance was the basis for my landing my current job with which I am very satisfied.
My utmost regards to this institution which embraced me for three years».
Success stories
One of the latest success stories achieved at the Department of Nutrition and Dietetics is:
the 1st prize National Award won by LGU nutrition team (March 2014) at the inter-universities competition entitled "Innovation in Food control" that was organized by the Ministry of Economy and Trade and that included 20 participating universities.
2nd prize award during an interuniversity contest organized by NUMED s.a.r.l. under the patronage of the Ministry of Education and Higher Education (May 2016) which aimed at developing an educational tool that would raise nutrition awareness among the Lebanese, Gulf, and Mediterranean populations and to be used by healthcare professionals for patient education.
Furthermore, the Department witnesses 100% success rate at the colloquium exam. This is mainly due to the fact that students are helped to prepare for the exam through revision sessions on the most important topics asked.