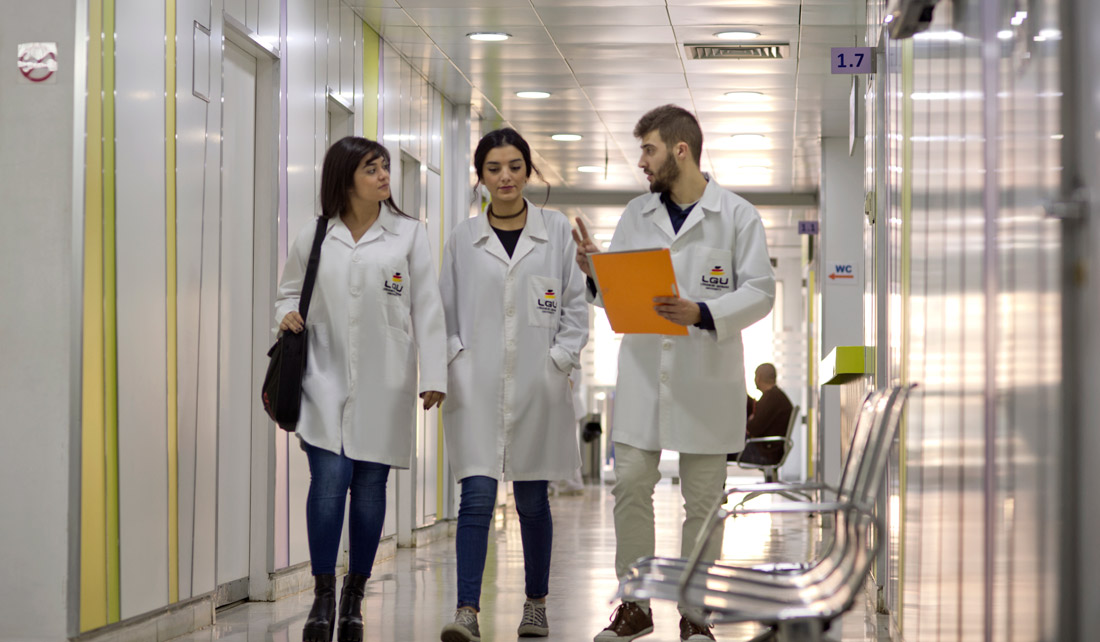 History
The Department of Biomedical Technologies was launched in 2008 with the launching of the Lebanese German University (LGU).
Description of the major
The Lebanese German University awards a Bachelor of Science (BS) degree in Biomedical Technologies upon accomplishing 180 credits – in conformity with the European Credit Transfer System (ECTS) – spread over three academic years. The courses are divided into six main areas: electronics and electricity, physics, mathematics, computer science, biomedical applications, and common courses. All courses are taught in English. During the three years of study, the student spends more than 600 hours in hospitals and biomedical companies to become familiar with various biomedical devices.
The program is so designed to expose students to a wide scope of fields, such as the production and maintenance of biomedical machinery and the maintenance of all electrical devices. 30% of the curriculum courses are related to the electrical/electronic domain. Hence, a graduating student may choose to undertake graduate studies either in biomedical technologies or in electrical fields. At LGU, an electrical/electronic laboratory allows students to put the theoretical knowledge they have learned in class into practice. In this laboratory, recent biomedical equipment, such as respiratory machines, anesthesia machines, ventilators, incubators, and ECG are available as well as many industrial devices such as National Instruments Data Acquisition Boards, the LabView program, EasyPic6 and PIC microcontrollers. A computer laboratory is also put at the disposal of students to implement and develop new programs related to the biomedical technology domain, mainly programs under C++, Matlab or Java.
Why choose LGU?
LGU offers one of the best teaching levels in Lebanon with the help of highly qualified instructors and researchers and can easily guaranty several internships in well known biomedical companies. Another reason for choosing LGU is that 100% of students are hired even before graduating due to their hard work and solid foundations. Moreover, students willing to pursue postgraduate studies in Lebanon or abroad can easily do so armed with the BS they have got from LGU.
Curriculum
Click 
here
 to download the Curriculum
Agreements
LGU has signed agreements with various establishments on the national and international levels. On the academic level, the research agreement established between LGU and Bordeaux University as well as Kassel University has helped graduates go for their MS diploma in one of these well reputed institutions. On the other hand, local agreements have enabled LGU establish efficient links with biomedical companies whereby students are recruited easily or granted some tuition during their internship. Some of these agreements are with:
• Hopital Notre Dame du Liban;
• Intermedic;
• Pharmatec;
• General Medical Equipment (GME);
• Health Care Equipment (HCE);
• EMMS;
• KhayatMedical ;
Events and conferences
The department has actively participated in local and international conferences among which we list:
1. NI Days (since 2009), Lebanon
2. ACTEA 2009, ACTEA2012 and ACTEA 2016, Lebanon
International conference on Advances in Computational Tools for Engineering Applications
3. ICABME 2013 and ICABME2015, Lebanon
International Conference on Advances in Biomedical Engineering
4. MELECON 2014, Lebanon
17th IEEE Mediterranean Electro-technical Conference
5. LAAS (since 2013), Lebanon
Lebanese Association for the Advancement of Science
6. LCPC (since 2011 till 2014), Lebanon
Lebanese Collegiate Programming Contest
7. CIFA 2009, France
Conférence Internationale Francophone d'Automatique
8. FDA 2010, Spain
Fractional Derivation and Applications
9. ASCC 2013, Turkey
Asian Control Conference
10. IFAC WC 2011, Milano
IFAC World Congress
11. TAEECE 2015, Beirut
IEEE International Conference on Technological Advances in Electrical, Electronics and Computer Engineering
12. CoDIT'16, Saint Julian's, Malta
IEEE International Conference on Control, Decision and Information Technologies
Job Opportunities
As Biomedical Technologies degree holders, students can find careers in medical technology, research science or medical sales as well as technical careers in hospitals. They also have the possibility to complete course work in biomedical engineering or computer science.
One of the main advantages for Biomedical Technologies graduates is that job opportunities are widely available in the Lebanese and regional markets. Moreover, the high number of hours students spend during their training in hospitals and companies help them establish useful contacts that assist them in promoting themselves in the field.
Five biomedical technologies generations have already graduated from LGU. All graduates are working in reputable companies, such as Biodiamond, EMMS, GE, Intermedic, Pharmatec and well-known hospitals such as HNDS, HNDL, St Charles, St Georges Ajaltoun, St Georges Achrafieh…
Future Studies
LGU currently offers a BS in Biomedical Technologies. However, students can decide to enroll in the MPH program offered at the Faculty Public Health in collaboration with the Faculty of Business. They can also choose to go for one of the MBA programs in the Faculty of Business.
In addition, the Department has established cooperation with German universities among which a new collaboration with Kassel University where students can enroll in the MS of "Safety systems applied to biomedical engineering", work on some research projects, or undergo training with well-known German biomedical industries.
Student's Testimonials
Rabih YOUSSEF RIZK: I joined the Department of Biomedical Technologies at LGU in fall 2009. The curriculum is very organized and detailed. The instructors are very helpful and well informed. I started working while I was at university and I taught some lab courses for one academic year during which I shared my experience with new students. Thank you LGU.Success stories
More than one success story can be told about graduates in Biomedical Technologies. A remarkable one is that of Rabih YOUSSEF RIZK who joined LGU as a Biomedical Technologies student in fall 2009 and graduated in Spring 2012. He has been responsible of the Biomedical Department at St Louis Hospital, Jounieh for 3 years. He is currently a head of department in Intermedic. He submitted a research paper at ACTEA conference which was accepted (despite the low acceptance rate). He is also a part-time instructor at LGU teaching practical courses.
Another successful story is that of Katy SADEK who joined the university in 2010 and graduated in 2014. Her final project was published in the International Journal of Biomedical Engineering and Technology.
Add to that, Tarek SAADE and Rony JAHJAH published their work as a book chapter in Advances in Engineering Research, Volume 9 edited by Nova Publishers.