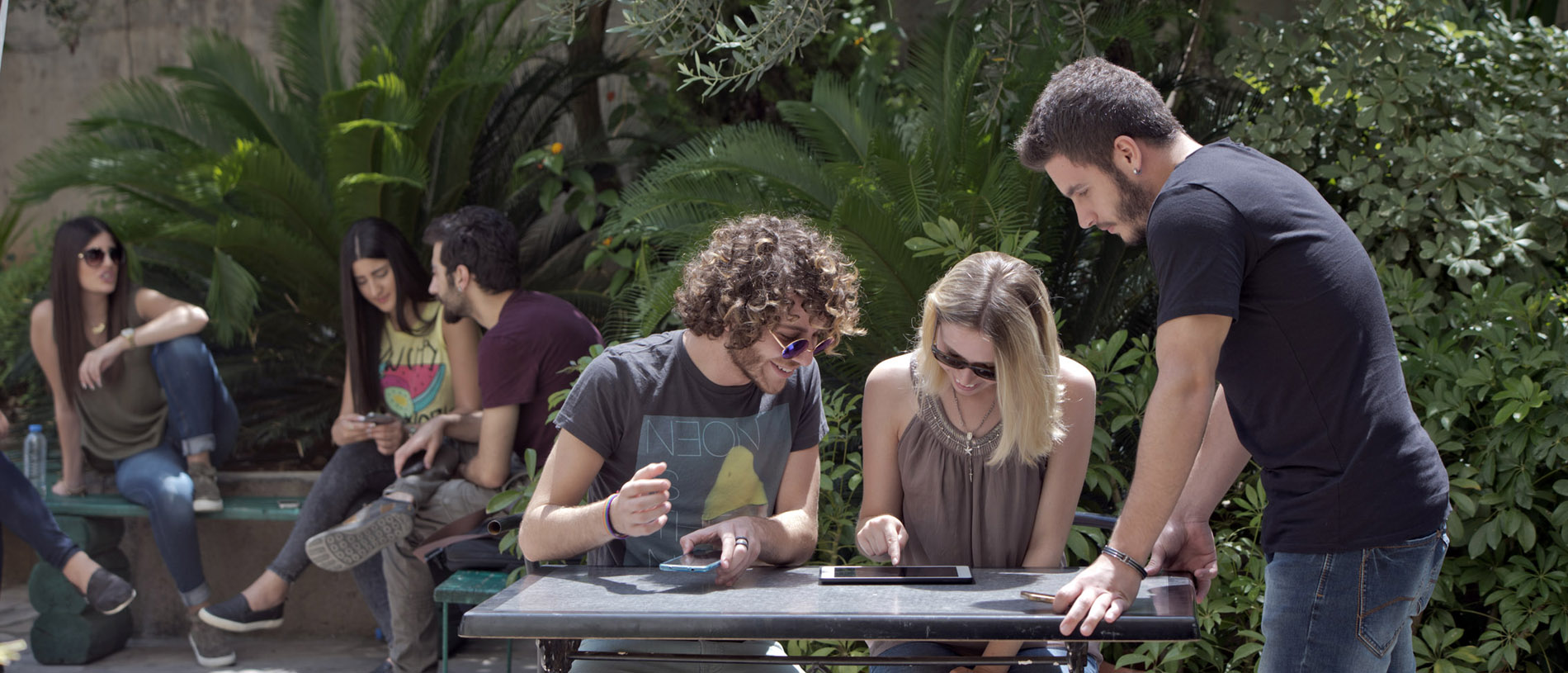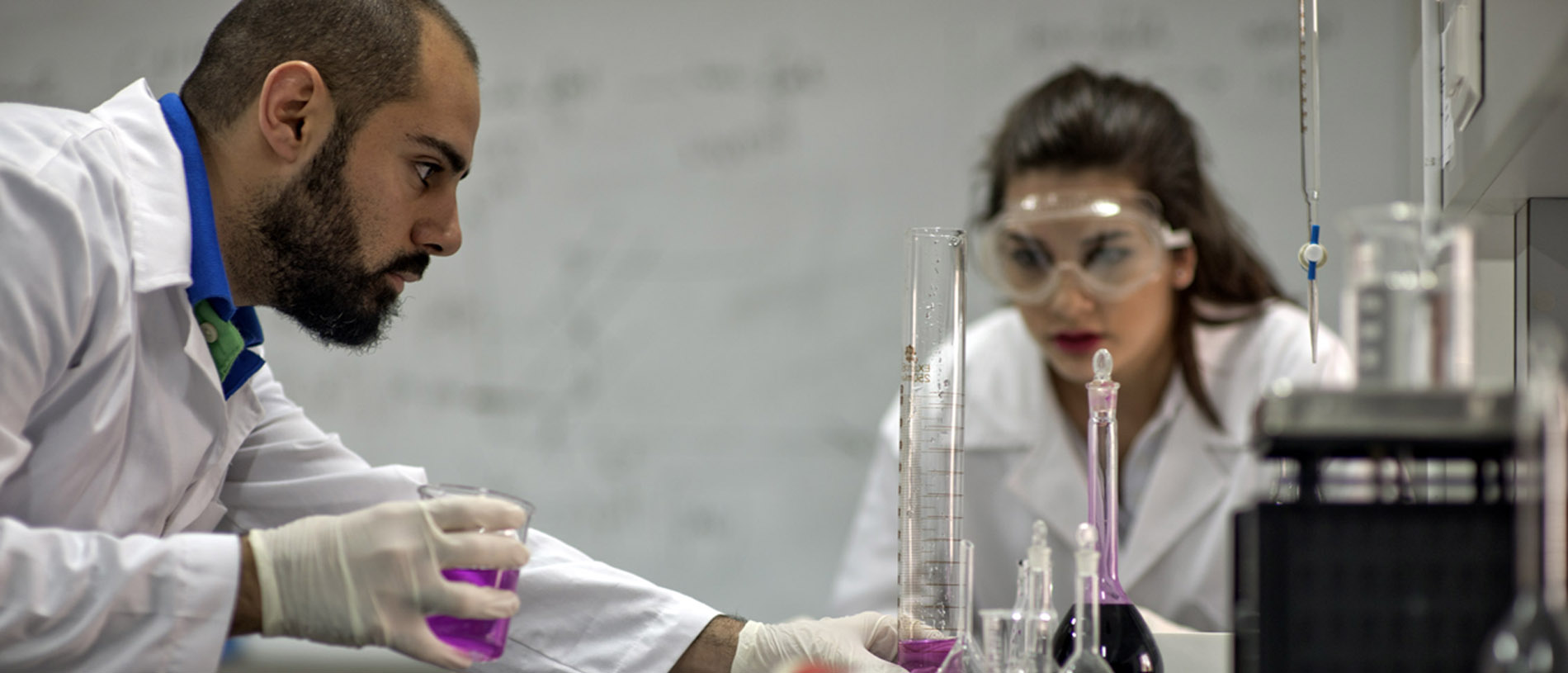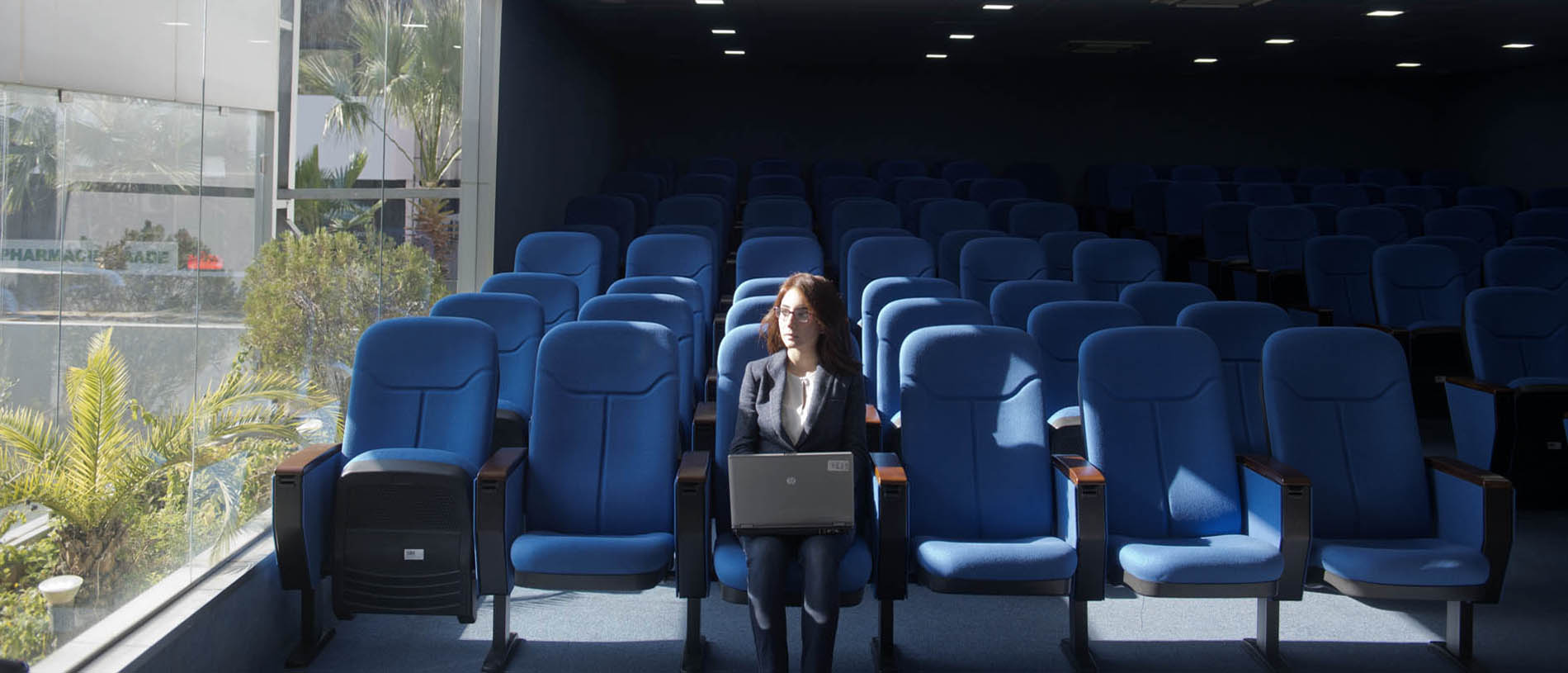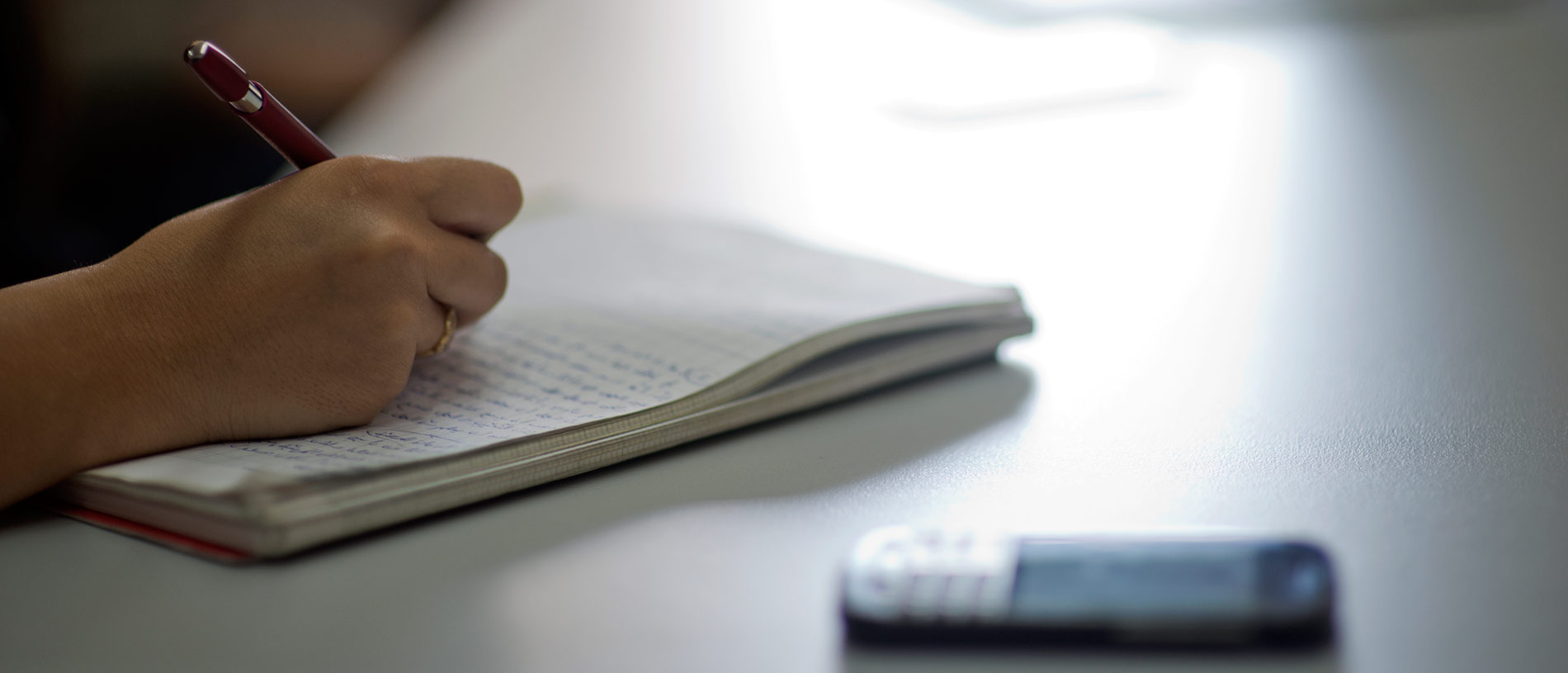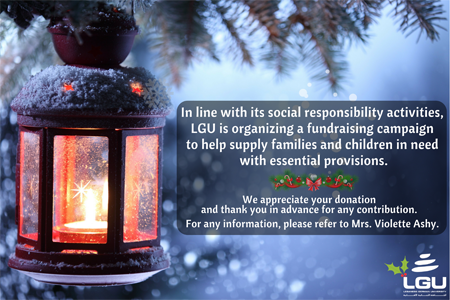 Students of the Faculty of Business & Insurance, accompanied by the faculty Dean Dr. Georges Khoury, participated in BDL Accelerate, the world event organized by the Central Bank of Lebanon, early November, at the Beirut Forum.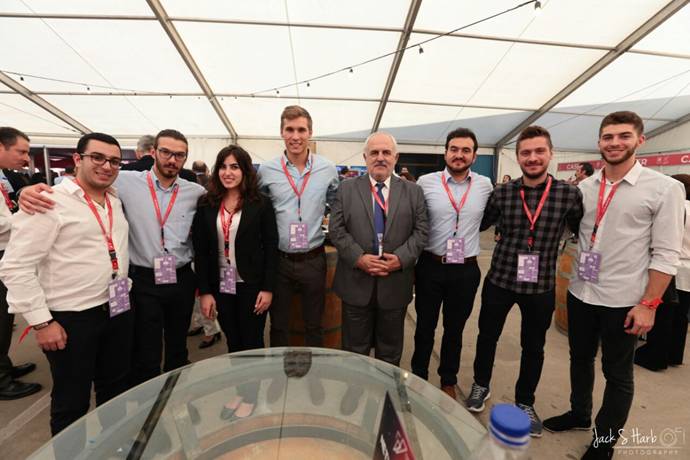 We are proud to announce that Dr. Tony Abboud, LGU alumni and candidate for the Presidency of the Order of the Physical Therapists – OPTL in Lebanon, won the latest election on 27th November 2016.
We congratulate him as well as Mr. Elie Koueik, LGU faculty member; Mr. Michel Ibrahim and Mr. Ralph Jad, LGU alumni members, for also being elected members of the OPTL Board.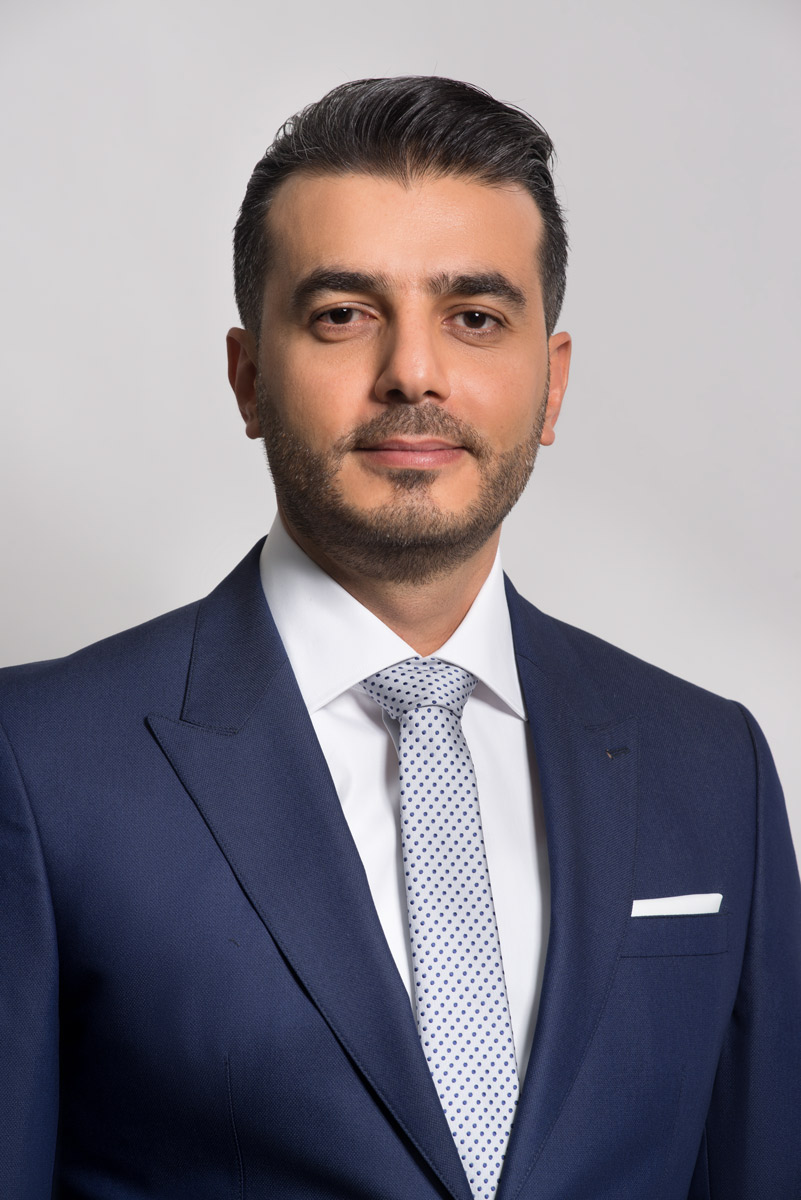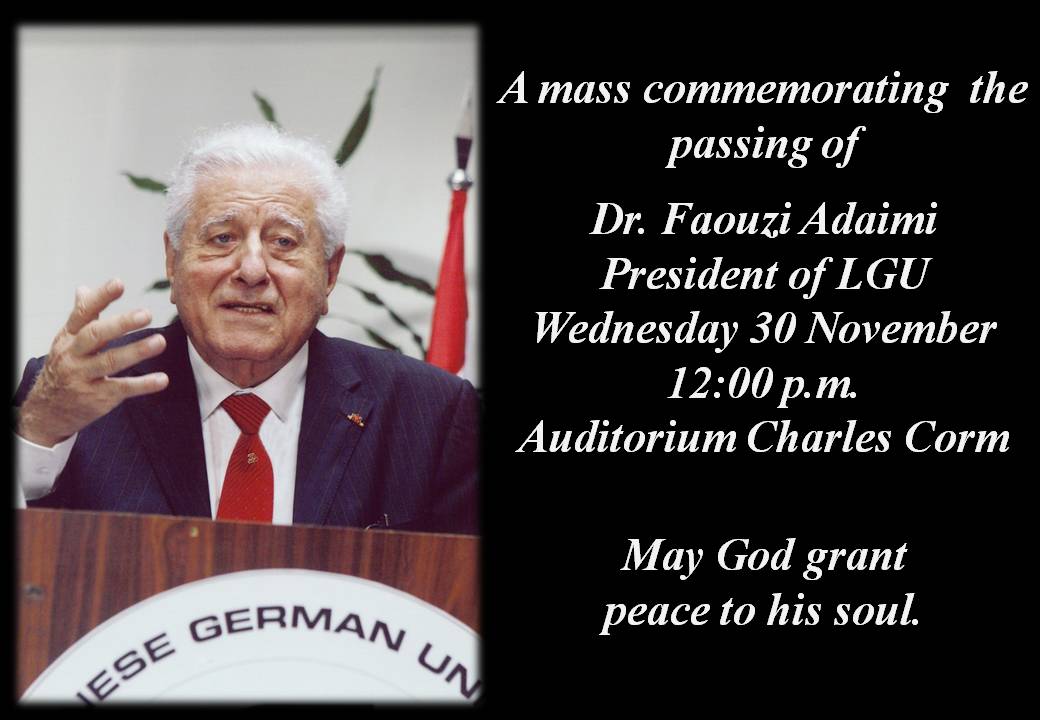 Congratulations to Yahya Mourad, Performing Arts student, on winning the Ministry of Tourism Award for his film "Belonging: Tripoli" at NDU International Film Festival.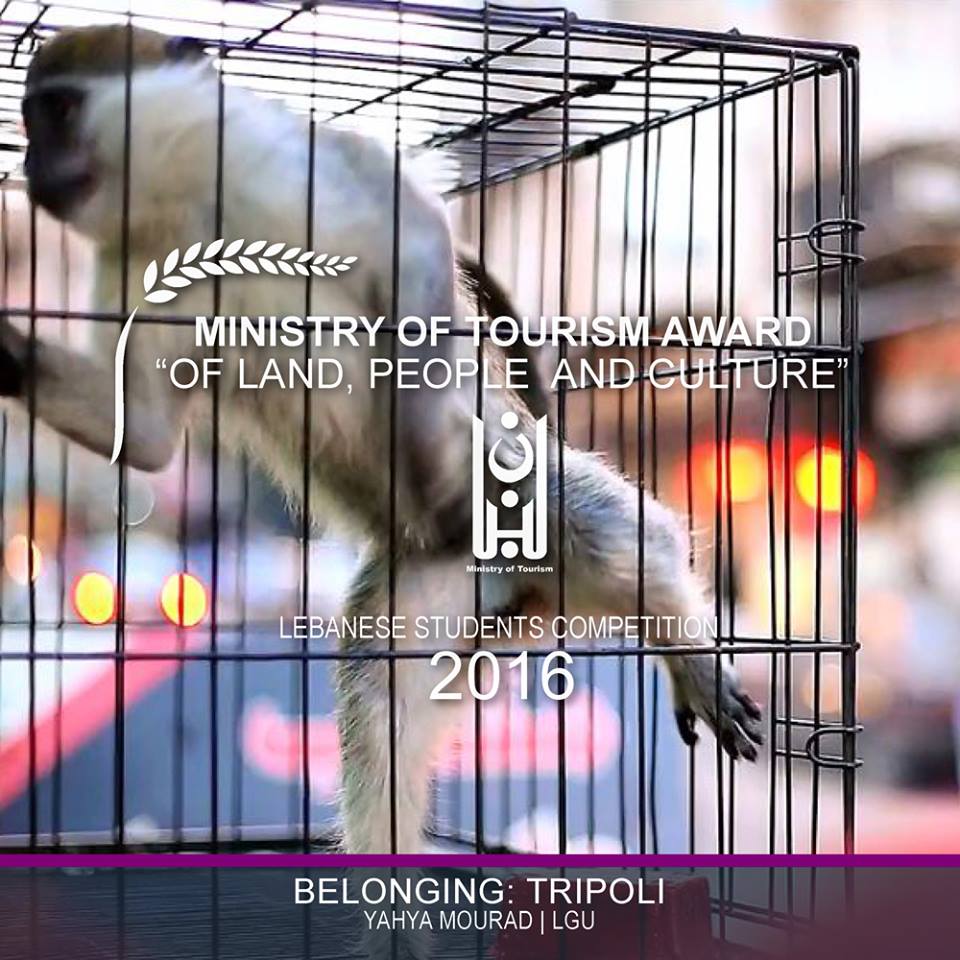 It is with the deepest sorrow that we inform you of the passing of LGU's President, Dr. Faouzi Adaimi, on Tuesday 8 November.
The memorial services will be held at St. Georges church Sarba on 10 November at 3pm
The family will receive condolences at St. Georges church on 09, 10, 11 November from 11am to 7pm
May his soul rest in peace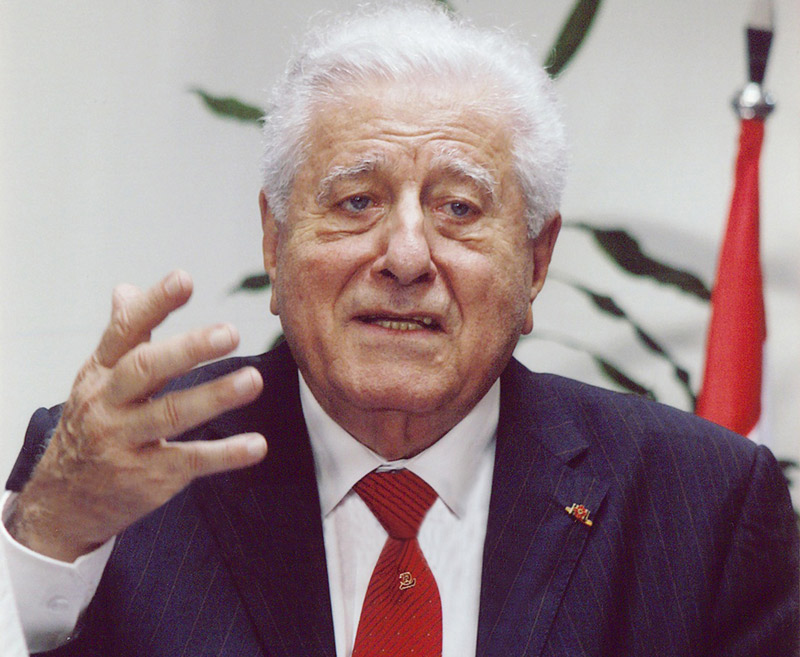 November 2016
We had the pleasure to receive Dr. Tony Abboud, member of LGU Alumni and candidate to the presidency of the order of Physical Therapists in Lebanon, for the meeting held at LGU Campus on November 3, 2016. We thank Dr. Abboud for discussing his program and vision and extend our gratitude to all alumni who were present for the purpose.
Your support of Dr. Abboud is highly appreciated.
.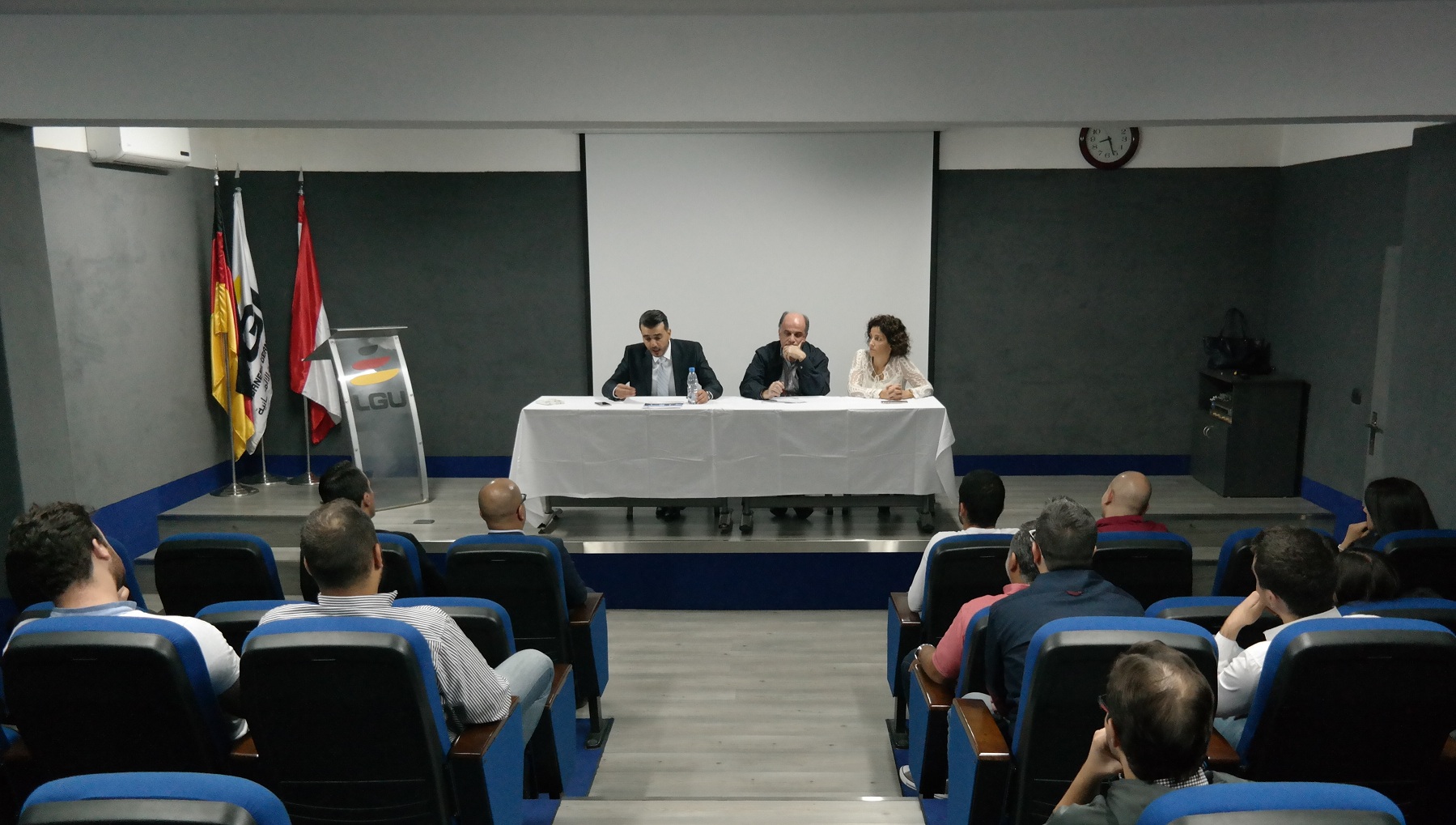 October 2016
We are proud to announce that the two Performing Arts students Mayssa Bayrakdar and Yahya Mourad had their respective movies "A Riot Life" and "Belonging: Tripoli" selected to participate in NDU International Film Festival.
Congratulations to our talented students.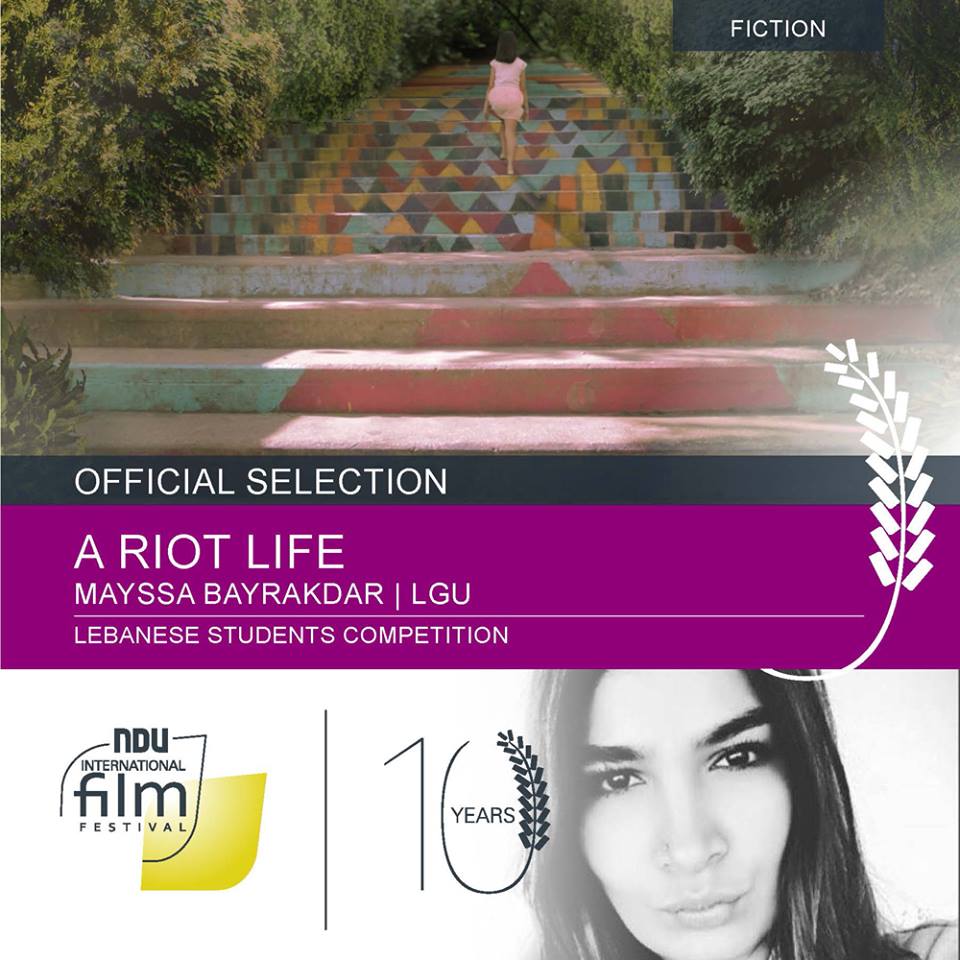 October 2016
The Department of Nutrition and Dietetics at LGU hosted representatives from NUMED on October25th 2016 to make a presentation on practical OAP education. This session offered students the opportunity to put into practice the theories they are learning in class by using real clinical equipment and tools. Furthermore, they were trained to use the new Boca X1 Body composition analyzer acquired by the Department. The session was very interactive, educational, and very informative.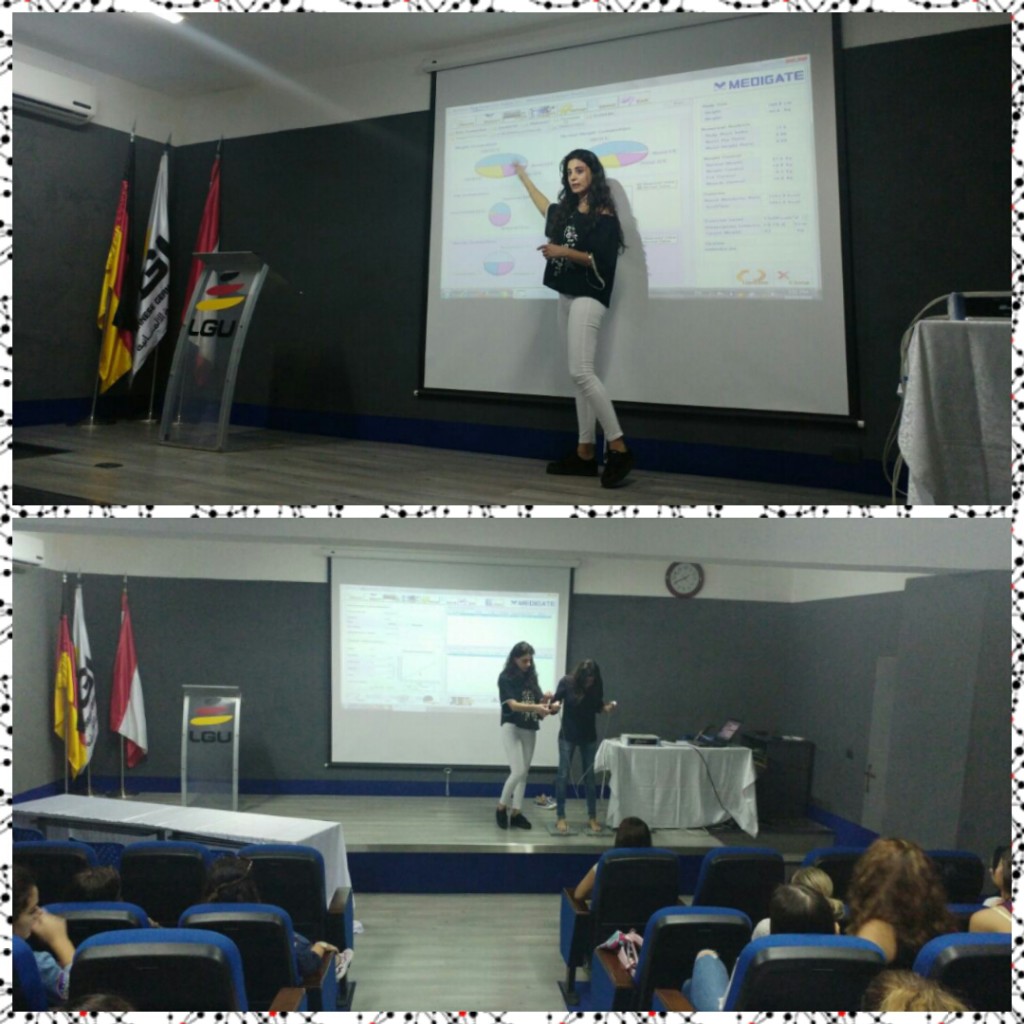 October 2016
In view of encouraging young innovative minds, the Department of Biomedical Technologies organized a conference entitled "How to design your own robot" on 13 October, 2016.
The conference that was attended by students interested in robotics engineering was delivered by leading engineer Mr. Salam El Bsat who presented designs on Vex Robot as well as Vex competition guidelines. He also showed LGU students Vex Kits, software, and simulators. At the end of the conference, students were able to test the robot.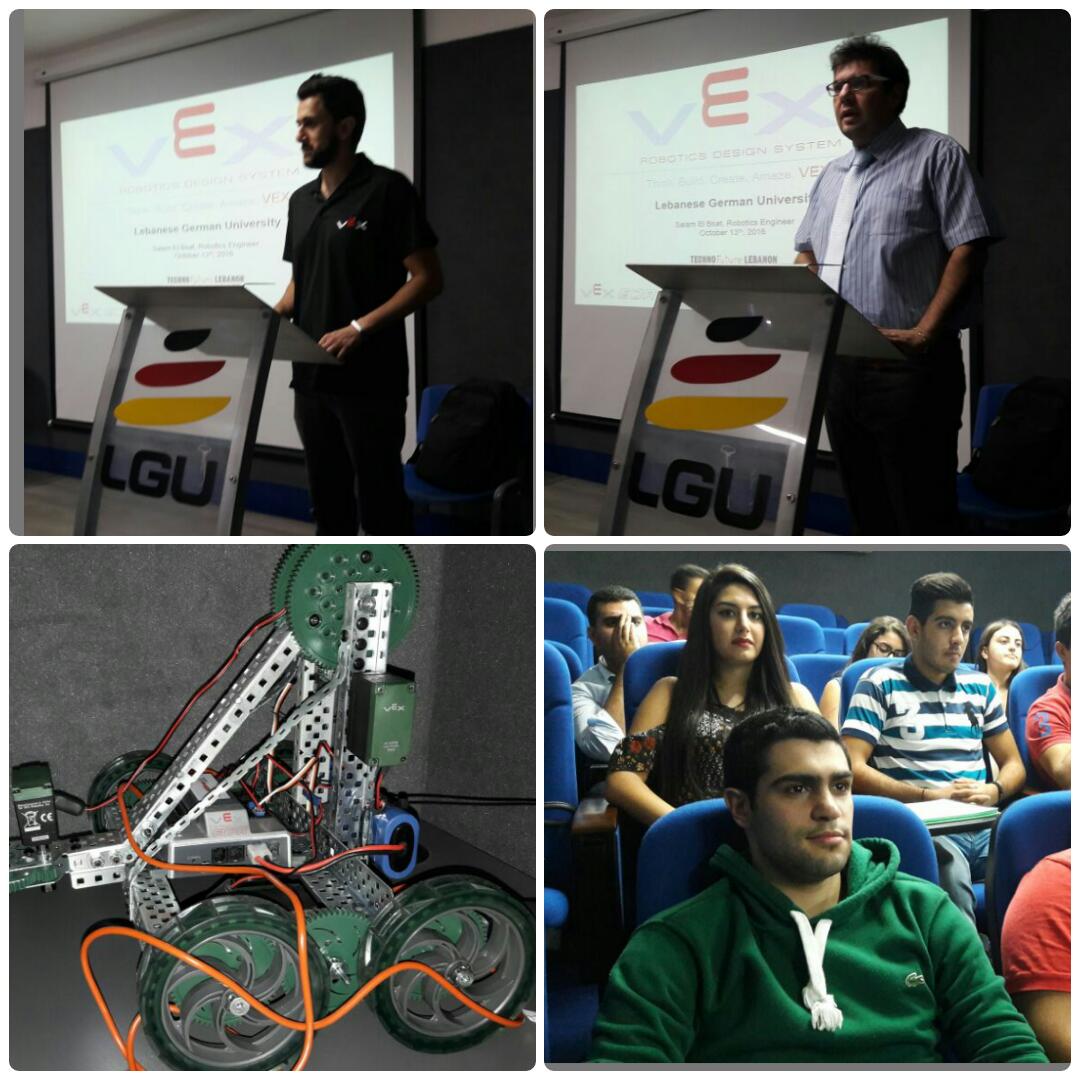 September 2016
NDU international Film Festival, Short Film Corner at Cannes Film Festival, shown at Université de Paris, Beirut International film Festival, Cabriolet Festival for Short Films, and now SOSE International Film Festival, "Life to Tape" by LGU student Nour Akiki wins one more time the opportunity to participate in the SOSE Student Competition Program that selected for the purpose 104 out of 336 films sent from 61 countries.
Nour's film will be shown on September 28.
'Life to Tape' is a short movie talking about a child with autism named Joe who is trying to share the bad behavior of his maid with his mother, Salma, who is busy preparing his birthday despite her busy working life as a TV presenter. Finally, Joe communicates clearly with his mother as she notices the truth.
We are proud of our talented student Nour Akiki and we invite you to follow all the news related to this event on LGU Instagram (@LGU.lebanon) and LGU Facebook (www.facebook.com/LGU.lebanon) and kindly share it and like it extensively.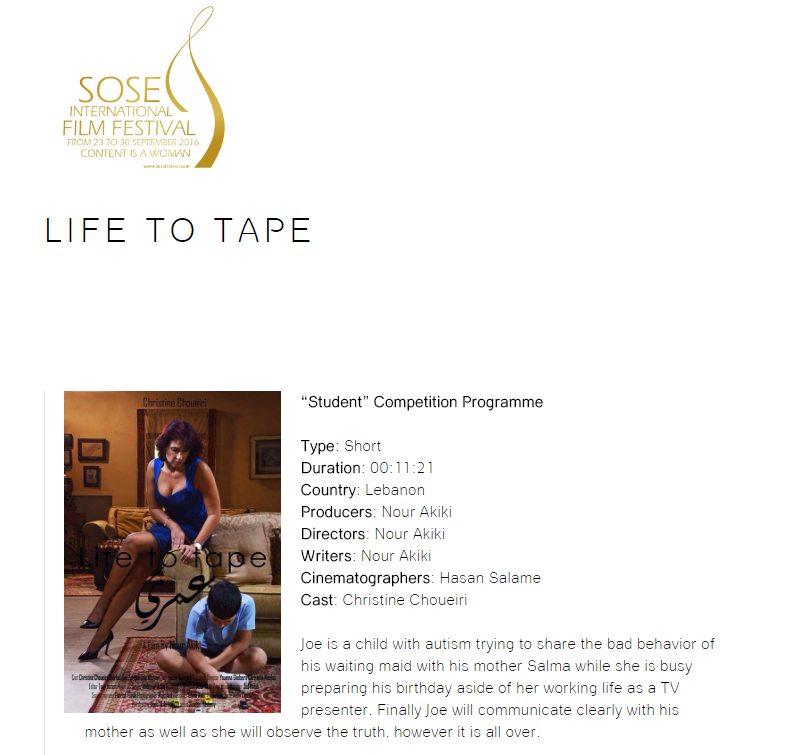 June 2016
Haroun à la LGU: les hôpitaux libanais cherchent 7 000 IDE
Suite à la décision du Ministère de l'Enseignement Supérieur et les recommandations de l'Ordre des Infirmiers et Infirmières au Liban, l'examen physique sera dorénavant appliqué par les IDE, alors qu'il était auparavant une pratique réservée aux médecins.Ce changement de pratique vise, en premier lieu, le dépistage précoce du diagnostic médical et permet, par la suite, aux IDE de rendre un jugement critique sur les cas observés et d'assurer des soins appropriés et ciblés. read more